One Hundred Years of Bohr's Atomic Model
P. I. Holod

National University of "Kyiv-Mohyla Academy", Bogolyubov Institute for Theoretical Physics, Nat. Acad. of Sci. of Ukraine

Yu. G. Terentyeva

Taras Shevchenko National University of Kyiv
Abstract
The historical context within which N. Bohr formulated his model of atom is presented. The subsequent development of quantum ideas from quasiclassical quantization to modern quantum mechanics is considered.
References
Н. Бор, Избранные научные труды 1, c. 84 (Наука, Москва, 1970).
А. Пуанкаре, О науке с. 249.(Наука, Москва, 1983)
Н. Бор, Избранные научные труды 2, c. 551 (Наука, Москва, 1970).
М. Планк, Избранные труды с. 282 (Наука, Москва, 1975).
А. Зомерфельд, Строение атома и спектры 1, с. 102 (ГИТТЛ, Москва, 1956).
Л. де Бройль, Революция в физике с. 134 (Атомиздат, Москва, 1965).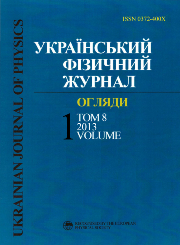 How to Cite
Holod, P., & Terentyeva, Y. (2019). One Hundred Years of Bohr's Atomic Model. Ukrainian Journal of Physics, 8(1), 42. Retrieved from https://ujp.bitp.kiev.ua/index.php/ujp/article/view/2019667