Multistructured Dust Cloud Formation in a Dusty Plasma Glow Discharge in Neon with Air
V. Kobylin

Faculty of Physical Engineering, Petrozavodsk State Univercity
Keywords:
dusty plasma, extended dusty plasma structures, complex plasma
Abstract
The results of experiments on the controlled formation of multilayer dust structures in a dusty plasma glow discharge in neon with the addition of air are presented. Polydisperse particles of Al2O3 are used. Different particle sizes are assumed in the upper and lower parts of the structure as a result of the selection of particle sizes, when the discharge conditions change. The results of experiments with monodisperse particles of two different sizes are presented.
References
V.E. Fortov, A.G. Khrapak, S.A. Khrapak, V.I. Molotkov, and O.F. Petrov, Phys. Usp. 47, 447 (2004).
https://doi.org/10.1070/PU2004v047n05ABEH001689
S.G. Psakhie, K.P. Zol'nikov, L.F. Skorentsev, D.S. Kryzhevich, and A.V. Abdrashitov, Techn. Phys. Lett. 34, 319 (2008).
https://doi.org/10.1134/S1063785008040159
E.S. Dzlieva, M.A. Ermolenko, and V.Yu. Karasev, Techn. Phys. 57, 945 (2012).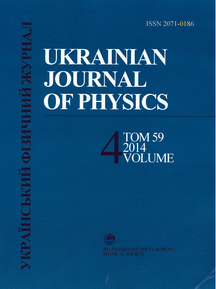 How to Cite
Kobylin, V. (2018). Multistructured Dust Cloud Formation in a Dusty Plasma Glow Discharge in Neon with Air. Ukrainian Journal of Physics, 59(4), 368. https://doi.org/10.15407/ujpe59.04.0368
Section
Plasmas and gases