Correlation between Photoluminescent and Photoelectrical Properties of Mn-Doped ZnO
N. O. Korsunska

V.E. Lashkaryov Institute of Semiconductor Physics, Nat. Acad. of Sci. of Ukraine

I. V. Markevich

V.E. Lashkaryov Institute of Semiconductor Physics, Nat. Acad. of Sci. of Ukraine

T. R. Stara

V.E. Lashkaryov Institute of Semiconductor Physics, Nat. Acad. of Sci. of Ukraine

L. V. Borkovska

V.E. Lashkaryov Institute of Semiconductor Physics, Nat. Acad. of Sci. of Ukraine

S. Lavoric

V.E. Lashkaryov Institute of Semiconductor Physics, Nat. Acad. of Sci. of Ukraine

L. Yu. Melnichuk

Mykola Gogol State University of Nizhyn

O. V. Melnichuk

Mykola Gogol State University of Nizhyn
Keywords:
zinc oxide, Mn2, photoluminescence, photoconductivity
Abstract
ZnO ceramics undoped and doped with manganese are investigated. The Mn content NMn is varied from 1019 to 1021 cm−3. The photoluminescence (PL), diffuse reflection, and photoconductivity (PC) spectra are measured. The quenching of the self-activated ZnO emission and the appearance of the light absorption and PC are observed in the same spectral region (400–600 nm) under the doping. Simultaneously, a week PL band peaked at 645 nm arose and was assigned to intra-shell transitions in Mn2+Zn centers. Based on the analysis of obtained results, the quenching effect is attributed to the re-absorption of the self-activated ZnO emission by Mn ions. A scheme of electron transitions that allows an explanation of the low intensity of the Mn-related emission is proposed.
References


T. Dietl, H. Ohno, F. Matsukura, J. Cibert, D. Ferrand. Zener model description of ferromagnetism in zinc-blende magnetic semiconductors. Science 287, 1019 (2000).
https://doi.org/10.1126/science.287.5455.1019



D. Iuєan, B. Sanyal, O. Eriksson. Influence of defects on the magnetism of Mn-doped ZnO. J. Appl. Phys. 101 09H101 (1) (2007).



M. Liu, A.h. Kitai, P. Mascher. Point defects and luminescence centers in zinc oxide and zinc oxide doped with manganese. J. Lumin. 54, 35 (1992).
https://doi.org/10.1016/0022-2313(92)90047-D



X.T. Zhang, Y.C. Liu, J.Y. Zhang, Y.M. Lu, D.Z. Shen, X.W. Fan, X.G. Kong. Structure and photoluminescence of Mn-passivated nanocrystalline ZnO thin films. J. Crystal Growth 254, 80 (2003).
https://doi.org/10.1016/S0022-0248(03)01143-6



U. Llyas, R.S. Rawat, Y. Wang, T.L. Tan, P. Lee, R. Chen, H.D. Sun, F. Li, S. Zhang. Alteration of Mn exchange coupling by oxygen interstitials in ZnO:Mn thin films. Appl. Surf. Sci. 258, 6373 (2012).
https://doi.org/10.1016/j.apsusc.2012.03.043



M. Sima, L. Mihut, E. Vasile, Ma. Sima, C. Logofatu. Optical properties of Mn-doped ZnO films and wires synthesized by thermal oxidation of ZnMn alloy. Thin Solid Films 590, 141 (2015).
https://doi.org/10.1016/j.tsf.2015.07.072



M. Godlewski, A. Wojcik-Glodowska, E. Guziewicz, S. Yatsunenko, A. Zakrzewski, Y. Dumont, E. Chikoidze, M.R. Phillips. Optical properties of manganese doped wide band gap ZnS and ZnO. Optical Materials 31, 1751 (2009).
https://doi.org/10.1016/j.optmat.2008.12.031



A.J. Reddy, M.K. Kokila, H. Nagabhushana, J.L. Rao, B.M. Nagabhushana, C. Shivakumara, R.P.S. Chacradhar. EPR and photoluminescence studies oh ZnO:Mn nanophosphors prepared by solution combustion route. Spectrochimica Acta (A) 79, 476 (2011).
https://doi.org/10.1016/j.saa.2011.03.014



Th.L. Plan. Structural, optical and magnetic properties of polycrystalline Zn1?xMnxO ceramics. Sol. St. Commun. 151, 24 (2011).
https://doi.org/10.1016/j.ssc.2010.10.031



R. Beaulac, P.I. Archer, D.R. Gamelin. Luminescence in colloidal Mn2+-doped semiconductor nanocrystals. J. Sol. St. Chemistry 181, 1582 (2008).
https://doi.org/10.1016/j.jssc.2008.05.001



I. Markevich, T. Stara, L. Khomenkova, V. Kushnirenko, L. Borkovska. Photoluminescence engineering in polycrystalline ZnO and ZnO-based compounds. AIMS Materials Science 3, 486 (2016).
https://doi.org/10.3934/matersci.2016.2.508



E. Chikoidze, Y. Dumont, F. Jomard, O. Gorochov. Electrical and optical properties of ZnO:Mn thin films grown by MOCVD. Thin Solid Films 515, 8519 (2007).
https://doi.org/10.1016/j.tsf.2007.03.133



Q. Ma, X. Lv, Y. Wang, J. Chen. Optical and photocatalytic properties of Mn doped flower-like ZnO hierarchical structures. Opt. Mater. 60 86 (2016).
https://doi.org/10.1016/j.optmat.2016.07.014



C.A. Johnson, K.R. Kittilstved, T.C. Kaspar, T.C. Droubay, S.A. Chambers, G.M. Salley, D.R. Gamelin. Mid-gap electronic states in Zn1?xMnxO. Phys. Rev. B 82, 115202 1 (2010).



T.R. Stara, I.V. Markevich. Influence of Mn doping on ZnO defect-related emission. Semiconductor physics, quantum electronics and optoelectronics 20, 137 (2017).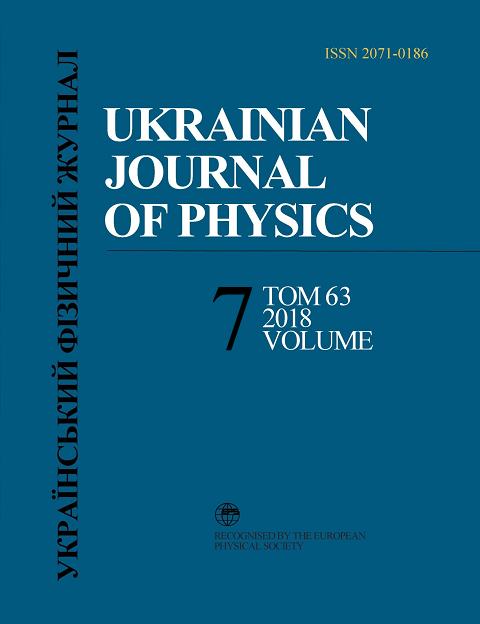 How to Cite
Korsunska, N., Markevich, I., Stara, T., Borkovska, L., Lavoric, S., Melnichuk, L., & Melnichuk, O. (2018). Correlation between Photoluminescent and Photoelectrical Properties of Mn-Doped ZnO. Ukrainian Journal of Physics, 63(7), 660. https://doi.org/10.15407/ujpe63.7.660
Section
Semiconductors and dielectrics